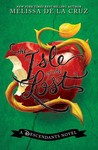 The Isle of the Lost by Melissa de la Cruz
My rating: 4 of 5 stars
The Descendants are all the rage these days. At least they are in my household. The Isle of the Lost takes place before the Disney movie and shows what life is like for the four teenaged villains in a place where evil lives without magic. The first half of the book is devoted to showing how deeply the famous offspring detest and distrust each other. It's not until the second half that the plot takes off. The four frenemies embark on a quest to find Maleficient's lost scepter, and each must face their darkest fears in the process. They learn, predictably so, that they are more alike than they dreamed.
The Isle of the Lost is a fun and engaging novel for middle grade readers, although some of the wisecracks were aimed at the middle aged. I recommend this book to anyone who wants to learn more about the Descendants, and I hope the author has more books up her sleeve.